Talk: The photography of Leslie Adkin
Presented by Athol McCredie, Curator of Photograhy
Wednesday 30 September 2020, 11am

-

12pm
---
Leslie Adkin (1988-1964) became known as the 'King of the Tararuas' for his earlier explorations, route forming and mapping of the ranges when tramping took off as a leisure activity in the 1920s.
Adkin, who farmed near Levin in the first half of the twentieth century, was also an amateur scholar who submitted papers to the Wellington Philosophical Society from age 22. His theories on the geological formation of the Tararuas and lowland areas of the Horowhenua were controversial but later proven largely correct. He worked with local Maori to publish Horowhenua in 1948 on place names and sites of the region; and then a similar book on Wellington titled The Great Harbour of Tara in 1959.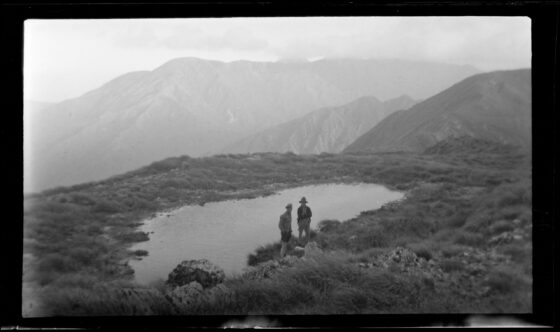 Te Papa has a large collection of Adkin's photographs. Work over the last year has focussed on scanning all his negatives and 'joining up' the different sources of information on the images.
Adkin's meticulously captioned album images in Te Papa and the Turnbull Library's collections yield information that can be added to the negatives. His diaries also record each photograph he took. By imaging, transcribing and linking the diaries to his photographs it is now possible on Te Papa's Collections Online to both read his early diary entries and see the photographs he took on the same day.
Athol McCredie's (curator of photography) expertise is in New Zealand photography, particularly 1940 to the present. Current research includes the history of the museum's photography collection, the photographs of Māori and their treatment by the museum, and the personal documentary photography of the 1960s and 1970s. He will talk to Friends about what has been achieved with Adkin's photographs, what remains to be done, and what an end result might look like. Adkin albums will also be available for viewing.
You can read about Adkin here:
https://en.wikipedia.org/wiki/George_Leslie_Adkin
https://teara.govt.nz/en/biographies/4a3/adkin-george-leslie
Feature image: Detail from: Tararua Range, by Leslie Adkin. Te Papa (A.008716)
---
Member $15, Student $20, Non-member $25 (includes a 20% discount voucher from Espresso & free parking)