How To… Move Terracotta Warriors
How Te Papa staff brought these ancient objects across 10,825km
Thursday 28 March 2019, 6pm

-

7pm
---
The Terracotta Warriors are extremely precious items and it takes much patience and expertise to care for them, let alone move them 10,825 km.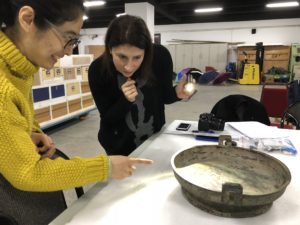 Join us for our first 'How to…' session to discover how Te Papa staff members worked collaboratively with Shaanxi Museum to bring these amazing objects, and hundreds more, to Te Papa.
Lift the curtain on this mesmerising show to find out about Te Papa's talent and knowledge in negotiation, object care, safe travel, relationship development, record keeping and staying awake for long periods of time!
Come on a journey with us and the Warriors from Shaanxi all the way to Wellington with Paintings Conservator Tijana Cvetkovic, Objects Conservator Nirmala Balram and Senior Touring Exhibition Manager Mark Kent.
How to… sessions are designed to share the amazing knowledge and talents of Te Papa's staff. Speakers will share the work they do and how they do it.
Images: Courtesy of Mark Kent, Te Papa
---
Includes a drink of your choice, nibbles and free parking