Gallery Visit: City Gallery Wellington Te Whare Toi
Friday 29 October, 10:30 am

-

11:30 am
---
We warmly invite you to join us on our second gallery visit in two weeks! Restrictions and the closures due to Alert Level 4 and 3 have shortened our viewing opportunities, and these shows are due to close on October 31st.
Our host for the morning, Caleb Gordon, will tour the group through Brett Graham: Tai Moana Tai Tangata and Judy Millar: Action Movie. He will also speak to Gonville Gothic and Human Mask but as those are small galleries they will not be suitable for us to view as a group under current alert guidelines. You will have time to return after the formal tour ends.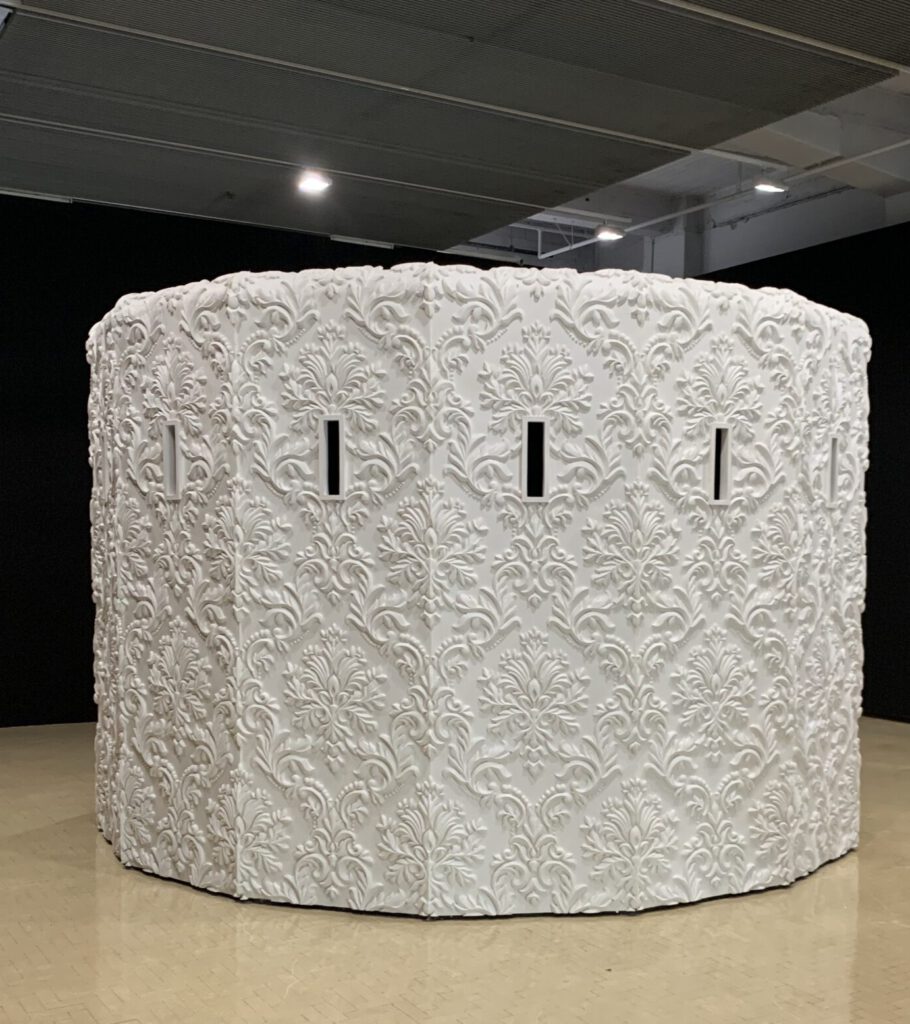 Brett Graham (Ngāti Koroki Kahukura, Tainui) is known for his large-scale sculptures exploring indigenous histories, politics, and philosophies. His exhibition Tai Moana Tai Tangata addresses the New Zealand Wars and their legacy, through the architectures of warfare and war memorials. As an artist versed in the language of public sculpture, Graham has created haunting, enigmatic, alternative war memorials. His prophetic vision both recalls a dark world corrupted by human endeavour and issues a grave warning in the present.
Most of the works were created for Graham's celebrated recent exhibition at New Plymouth's Govett-Brewster Art Gallery, curated by Anna-Marie White (Manukorihi, Te Āti Awa).
The paintings of Auckland painter Judy Millar seem at once intensely physical and vital, highly mediated and mannered. Millar famously 'paints backwards', wiping paint off her canvases to create exaggerated, hyperactive brushstrokes that seem to float in illusionistic space. Full of drama, her works breathe life into the discredited idea of action painting—she's a reanimator. Action Movie showcases two new series of paintings—three mural-size paintings in hot reds and pinks and seven portrait-format paintings in colder hues. The 'hot' ones started with the idea of making a sequence of painterly gestures as a framed 'comic strip'. The 'cool' ones are hung in a line suggesting frames in a length of movie film.
We will meet in the foyer of City Gallery at 10.15am in time for a 10.30am start.
Please note that currently some entrances into Civic Square are closed due to construction work. Enter from Mercer and Victoria Streets, or from the waterfront via the City to Sea Bridge.
If you would like to stay for lunch following the tour we suggest that you make a reservation with Nikau café
Caleb Gordon is a public programme specialist for Experience Wellington who focuses on the development and delivery of events and tour for City Gallery Wellington. Working across galleries, museums and libraries Caleb works to weave communities together through culture, events and civic spaces.
---
Members only. Numbers limited.